There are 3 bops we'd like you to check out, "Cocoa Butter", "Can't Go Slow" are the current singles and "I Just Wana Win" (Disco link only) will be released this quarter. Be there first...
Since he could crawl BigTreeSteve only knew  one pace - fast. 
Born near the speedways of Daytona beach Florida his upbringing is as breakneck and driven as his roots. Brought into this world by music loving parents, as a child Steve moved across the country soaking up the influence of American music and popular culture at every turn. Learning the piano at the tender age of 5 and later guitar and bass as a teenager playing in bands; Steve was relentlessly persistent of his musical abilities.
Steve's cross country journey eventually landed him in the San Francisco Bay Area where he immediately began creating and releasing songs, collaborating with up and coming Bay Area artists such as 24k golden, Nef The Pharoah and Caramel Express while simultaneously beginning his higher education in music and art at the Academy of Art University San Francisco.
Big Tree is not just a name for Steve. Standing six foot four inches, he towers physically with chiseled features and a gentle nature. His looks have given him the opportunity to walk for the critically acclaimed Argentinian clothing brand "Gaucho" in the world famous New York Fashion Week 2022.
These impressive accomplishments underscore Steve's work ethic. At only 21 years of age Steve is just getting started - He quite literally Can't go slow. 
Hunnypot is proud to be BigTreeSteve's official sync representative both Masters & Publishing, ask us about 1 stop LICENSING!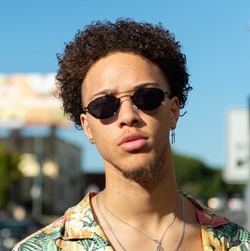 WEBSITE  SPOTIFY  INSTAGRAM  YOUTUBE  FACEBOOK  TWITTER