Powered by CircleSquareLA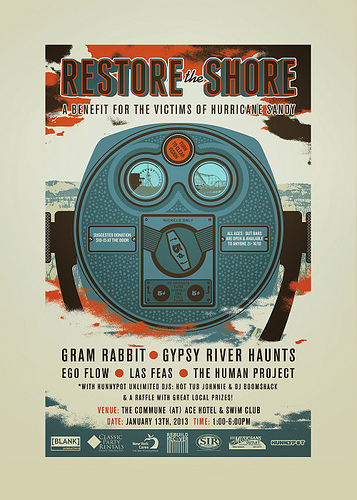 We lucky folks out here in the desert don't have to think about hurricane destruction, but unfortunately that is not true for the good people on the east coast. Though the media has seriously reduced coverage of the destruction and rebuilding that is going on, our friends on the east coast shores are still in desperate need of help after Hurricane Sandy had her fun.
This being said, we are bringing you an afternoon full of incredible music, relaxation and sunshine to raise money to donate to the rebuilding! The Commune at Ace Hotel & Swim Club, complete with private heated pool and spa is the perfect place to spend your Sunday afternoon. Come relax and enjoy a day of music for a good cause.
Bands performing: Gram Rabbit Gypsy River Haunts Las Feas Ego Flow The Human Project
Hunnypot DJ Action with Hot Tub Johnnie & DJ BoomShack!
Raffle with great local prizes! Let's raise some money people!
The Commune @ Ace Hotel & Swim Club | Palm Springs Sunday, January 13th, 2013 1:00-6:00pm Suggested Donation of $10-15 All Ages Event--Bar open to anyone 21+
Email

This email address is being protected from spambots. You need JavaScript enabled to view it.
Subscribe
to Hunnypot News