Hunnypot recommended, Get your tickets here.
Hot Tub Johnnie - 8:00
Angelo Moore & The Dr. Madd Vibes - 8:30
Red Baraat - 10:00
Red Baraat Festival of Colors is an immersive celebration through music, dance and visuals. After presenting a multi-city annual for 8 straight years that showcased South Asian artists during the Hindu holiday of Holi, Red Baraat has taken the spirit of the festival to the next level: a year round show of communal revelry that brings together what NPR has called "the best party band in years," a montage of classic Bollywood visuals, and a fiery dancer.
Traditionally, Holi is marked by public gatherings of families and strangers sharing songs, dance, and the exchange of 'colors'. It signifies the victory of good over evil, the arrival of spring, and for many, a festive day to meet others, play and laugh, forget and forgive, and repair ruptured relationships.
Red Baraat Festival of Colors debuted in 2012 at a sold out Le Poisson Rouge in New York City and then expanded to over a dozen cities in the United States. Previously, bandleader and dhol player Sunny Jain curated a night of music highlighting the South Asian Diaspora through a diverse range of styles. Past festivals included DJ Rekha, Vidya Vox, Falu, Heems (Das Racist/Swet Shop Boys), Radhe Radhe: Rites of Holi (a film by the late, award-winning filmmaker, Prashant Bhargava, with score by Grammy-nominated composer, Vijay Iyer) and so many more.
Returning to its roots of just brass and drums and complete in colorfully painted white jumpsuits plus a dancer, the new show, Red Baraat Festival of Colors, is a full blown immersive experience as the band, the visuals, the dancer are like a mélange of colors, each bold on its own but commingling to form a stunning panorama.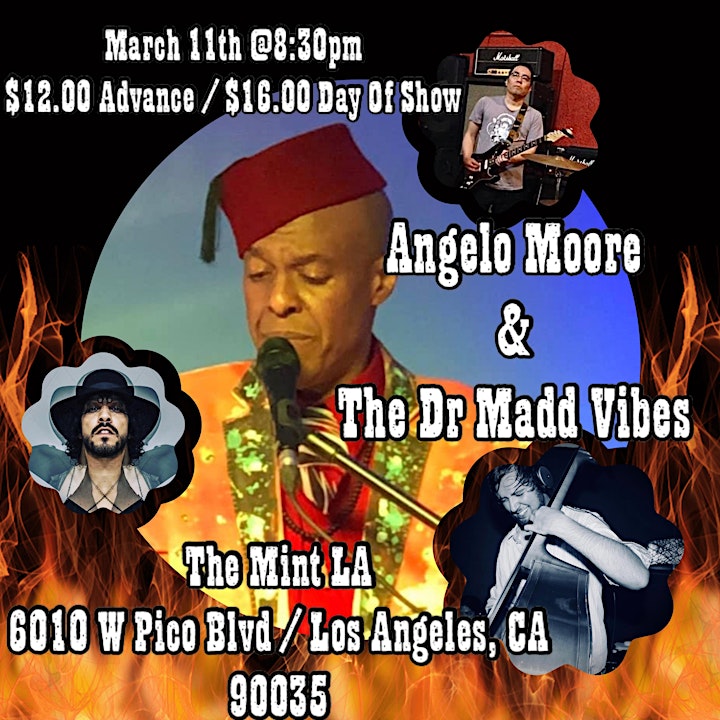 Angelo Moore is the legendary frontman of Fishbone and known for his explosive on-stage presence, amazing vocal talents, and mad musical skills on saxophone, theremin and Hammond B3. Considered by many to be the world's greatest frontman, Angelo's musical talent knows no boundaries. While actively touring with Fishbone, Angelo also performs as Dr Maddvibe, and also tours with new group called Angelo Moore & The Brand New Step that performs regularly in the United States and has toured to Taiwan and Japan. The Brand New Step is on Rope-A-Dope records in Philadelphia and includes as guests and touring musicians Claude Coleman Jr (Ween), Hashish Vyas (thievery corporation), Stanton Moore and Robert Mercurio (galactic), Butterscotch, Jim Greer (Rondo Brothers), Kris Jensen, DJ Q-Bert, JJ Jungle and Hassan Hurd (The Coup) and many more.