Las Vegas headliners, The Royal Hounds, are a high energy roots rock n' roll trio. They have been wowing and entertaining audiences across the globe for years with their unique approach to live music. Known for their on-stage antics and humorous approach to music, The Royal Hounds offer a live show that is unlike anything on the scene now. Not content to merely stand there and play, The Royal Hounds successfully marry quality musicianship with stellar showmanship.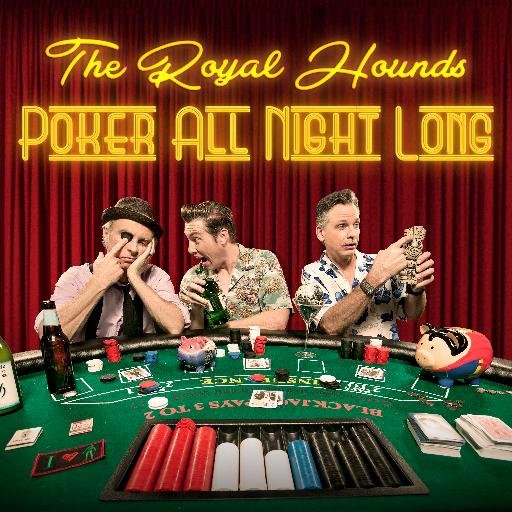 The Royal Hounds cash in for a high-stakes musical 'Poker' match...
It's not that Scott Hinds, the bass-slapping, bug-eyed frontman of The Royal Hounds, can't write a serious song.
He can, and he has. But when it comes time to present it in a public setting, it just doesn't seem to work, he told The Daily Times recently.
"I would love nothing more than to be a Jason Isbell-type of songwriter and write true, introspective, from-the-heart stuff, but when I do it, it comes off as false," Hinds said. "I don't know if it's my emotions that creep me out, but writing songs about zombies or a woman going crazy because her husband sucks, that comes more natural. You have to be true to yourself as a songwriter, and I just long ago figured out that I'm going to go with where my talents are. And I can turn a phrase much better than I can express how I feel in my heart."
In other words, Hinds was born to be weird, and that's a very good thing for fans of the psycho-tinged rockabilly that he and his two bandmates in the band play with such gusto. Whether he's on his knees, sweaty pompadour falling into his eyes while guitarist Matheus Canteri stands atop the instrument and peels off a blistering solo while Scott "Bramble" Billingsley sits in the pocket with all the cool of Charlie Watts, Hinds is at his best when he's spinning tales of dancing grannies and the spirit of Elvis hanging out in his bathroom. It's rocking good humor along the lines of Unknown Hinson and Southern Culture on the Skids, which is exactly what he aims for, he said.
"Everyone knows, and I don't want to sound egotistical, that there are just a lot of bad bands out there," he said. "We're already kind of kitchy, so we have to have some sort of thing to take us seriously. If we were a kitchy band and a bad band, we would never be able to do anything. Bands like those two, they have great musicianship, because that's what makes people take them seriously as an actual band. That's crucial."
Hinds was a musician, and a solid one, long before he started writing witty lyrics to accompany his songs. Inspired by former Stray Cats frontman Brian Setzer and the former Nashville rockabilly band The Dempseys, he started playing around East Tennessee, first with Pistol Creek Catch of the Day, then started The Royal Hounds when he and Billingsley crossed paths at a Christmas party. A Knoxville native who played drums all throughout his school years at Karns, Billingsley has been a member of a number of area bands (including the Knoxville New Wave group Video, the R&B unit High and Lonesome and the jazz ensemble Quartet Rico); they picked up former guitarist Brian Lee, who now keeps busy with State Street Rhythm Section and other projects, and The Royal Hounds were born.
The group developed a healthy following around East Tennessee, turning venues like Preservation Pub into sweaty dance parties that usually ended with Hinds, shirtless, on top of the bar with his bass and overseeing a dance party that East Tennessee probably hasn't seen since the Roaring Twenties. After leaving for "Million Dollar Quartet," he founded a West Coast version of the Hounds, with Billingsley flying back and forth when he could; with the release of the new album "Poker All Night Long," however, he decided to cut his losses and jump ship.
So far, the gamble seems to have paid off — "Poker All Night Long" debuted at 160 on the Americana charts and leaped up to No. 89 last week. Given the zany subject matter of the songs, it's an impressive feat; the band also completed its second tour of Europe last month, and Friday night, they'll roll into Knoxville for an "Alive After Five" performance at the Knoxville Museum of Art. It's a punishing schedule, Billingsley said, but it's worth it.
"My other projects are primarily cover bands, which is really fun, but with this band, we do really high-energy stuff and stuff that swings, and I really enjoy that aspect of it musically — playing stuff that has a swing beat to it," he said.
It doesn't hurt that overseas, where Europeans love their American rockabilly, the Hounds were received with a great deal of enthusiasm. Stateside, they're touring with Brazilian guitarist Canteri, who impressed Hinds with a video tribute to Nashville guitarists and readily accepted the job when Hinds called him up and invited him to play for the Hounds' North American tour.
"The Royal Hounds have always had great guitarists, and I thought we might as well get the best," Hinds said.
"The first time I heard their music, I knew it was going to be fun, and a great experience for me to play with them," Canteri said.
On Oct. 12, "Poker All Night Long" will get a proper release on the "Tennessee Shines" radio show, and after another brief tour, Hinds will likely wind up in Nashville. For Bramble, the move will be a much more manageable than the Vegas one. Not that it would matter.
"It's just been a really important thing ever since we started this band," he said. "It just seems to keep growing, and we just made a point of keeping the band going, whatever it took."
By Steve Wildsmith stevew@thedailytimes.com