Hunnypot Radio #206 featured a special guest host Jason Kramer (Elias Arts/KCRW) filling in for the vacationing Hot Tub Johnnie. The night still proved to be very entertaining as we had some great guests!
The night was kicked off by a first time Hunnypotter intern DJ Paul Enriquez. Paul experienced his first Hunnypot DJ set and did not disappoint playing some great new music from The Technicolors "Fireflies", Chiddy Bang's latest "Baby Roulette (feat. Train) and more! Look for another set by Paul Enriquez very soon.
Our musical guests of the night were local LA rock band Franklin Manor. These guys came in and completely rocked, playing a storming set of their latest material including their single "Pushover". Look for these guys to be headlining The Roxy this month! Check out their video for "Pushover" and keep your ears open for their self titled debut album.
Our next guest of the night was none other than Tracii Guns! Guest host Jason Kramer put together a great sit down interview session with Tracii Guns, Bronxstyle Bob and Doni Gray of The Bastards Blues Band. This was a very informative interview session, that touched on critical topics that are facing the music industry. We heard some great views on music, life and was great to see that there is still passion for music which is what this session ultimately was all about. We also heard some great new music from Tracii Guns Bastard Blues Band which is a classic heavy mix of rock/soul and blues... a refreshing sound which we suggest checking out! Listen to the last 40 minutes of the show for this interview and new music from the Bastards!
Our Hunnypot sing-a-long of the night was "Sabotage" by the Beastie Boys  02/21/2011
Special thanks to our crew & guests...
Jason Kramer, Franklin Manor, Tracii Guns, Bronxstyle Bob from The Bastard Blues Band, Kevin Kelpin, David Trimeloni, Arthur Lang, Lucas Tuttle, Adrian Flores, Anthony Severino, Zac Browne, Moe Sai, Dani Endrei, Marvin Bonilla, Paul Enriquez, Larken Phillips, Trygge Toven, Jeremy Paul Hicks, Kali Hinkel, Cody Zingraf, Lindsay Nourse, Diana Szyszkiewicz, Adam Schlachter, Juan Gonzalez, Colleen Crumb, Christopher Hawley, Sammy H. Greenspan and many many more!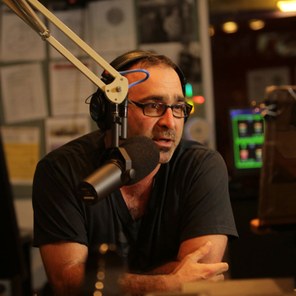 JASON KRAMER
We welcome back renowned music supervisor/DJ,Jason Kramer (Elias Arts/KCRW). Jason Kramer is one of the most sought after tastemakers in the business. He will be providing his musical insight while featuring some of the latest musical goodness you've yet to hear! This will be a one of a kind interview/DJ set do not miss this!
Listen to Jason Kramer on KCRW's "The Lab"
---
FRANKLIN MANOR
Our musical guests of the evening will be LA rock band Franklin Manor. Coming through in support of their lead single "Pushover", these guys are killing it with their mid 90's sound reminiscent of Alice In Chains. Franklin Manor will surely be bringing it live when they go all out at the Libertine!
---
TRACII GUNS & BRONXSTYLE BOB
Also we have very special guest Tracii Guns, of LA famed rock band L.A. Guns. Tracii will be on to perform a special acoustic set live on Hunnypot Radio!