In a stunning change of protocol Hot Tub Johnnie assembled his appointees and had them bestow praise, adulation and allegiance to his "party" platform. We all unanimously agreed to serve him without measure. Hot Tub Johnnie started the night with some sharp tunes to smooth the edges. Bruce Duff dusted off our turntables and brought a set of music that defines his mad genius influence and influences, Eugene Marie haunted us with progressive melody and meter, Sumo Princess "Yusho'd" us the way to hard rock victory, Fused By Defiance literally brought the crowd to their knees with hardcore sounds and The Glorious just live up to their name with...glorious melodies and songs.  *DR. OGX (STEVE SUH) INTERVIEW!!!  -Jeff Gray  6/12/2017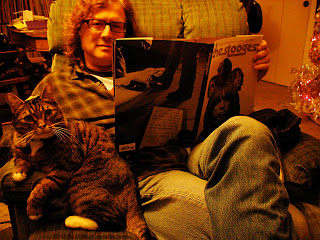 BRUCE DUFF (INTERVIEW/DJ SET)
Musician, producer, manager, rock journalist, indie label executive, Southern California native Bruce Duff has seen and been a part of more rock 'n' roll fantasies come to life than the average guy with long hair and a penchant for living the dream. From biohazardous opening slots with the legendary GG Allin to playing alongside the notorious Jeff Dahl and the Dead Boys' Cheetah Chrome, wearing multiple hats at Triple X Records, and writing for the most acclaimed publications in the genres. Bruce currently oversees the Artist Management division at Knitting Factory.
Knitting Factory Management  Facebook  Twitter

EUGENE MARIE
Eugene Marie is a new electropop duo from Brooklyn by way of Seattle and Portland. The couple, Lucy and Spencer, is currently releasing their debut self-titled EP – an album built from a foundation of found sounds and serendipitous situations. By gathering seemingly mundane artifacts of life and putting them on a pedestal, Eugene Marie turns squeaks into symphonies and conversations into melodies: "The perfect blend of Björk's unconventional left field exuberance and Sylvan Esso's odd-pop earworms" (Crack in the Road).
Website  Facebook  Twitter  Instagram  SoundCloud  Spotify  iTunes
---

SUMO PRINCESS
Los Angeles based, bass and drum duo Sumo Princess is the brainchild of bassist/ vocalist Abby Travis (The Go-Go's, Eagles of Death Metal, Masters of Reality, Farflung, The Bangles, Beck, KMFDM, Elastica) and drummer/cohort Gene Trautmann (Queens of the Stoneage, Eagles of Death Metal, The Miracle Workers, The Twilight Singers, Mark Lanegan, Drag News, Mojave Lords)
After working for 30+ years, as a gun for hire: Travis got sick of being appropriate and tasteful so she started creating a new, post political, music from her gut. Sumo Princess has the balls of teenage rebellion with the experience and chops of two alt rock music veterans. Travis and Trautmann have been friends since the 1980's when she was in The Lovedolls and he played drums with paisley undergound stalwarts The Miracle Workers.  The sound they are creating draws heavily from their misspent youths with direct lines to the Residents, Butthole Surfers, Devo, Black Flag, acid during the Reagan administration and legendary LA punk rock clubhouse Rajis.
Improvisation and strange vocal stylings are main ingredients in Sumo Princess' work. When singing, Travis seems to take on different characters in each narrative.  This is big departure from her earlier, more personal, solo work.  (Cutthroat Standards & Black Pop, Glittermouth, IV, The Abby Travis Foundation) Through filtering her bass guitar through a myriad of strange pedals, she creates a new sound she calls "Artcore"
Travis is surprised that such reactionary, non results oriented work is resonating so deeply with fans:  "I started this band to preserve my own sanity", Travis says,  "My initial goal was just to play at my brother's club. (Dave Travis/ Café Nela) I'm amazed at the audience response we are getting."
Trautmann says: "When Abby asked we to play in Sumo I was stoked because I knew her musicianship and drive would challenge me to better my own playing and to do things I wouldn't normally do in the standard rock paradigm.  We're really hitting marks across the spectrum of style and I like it like that.  Also I get to sing and play orchestral percussion, which is awesome."
Look for the debut Sumo Princess release in '17.
Website  Spotify  Facebook  Abby Twitter  Gene Twitter  Instagram
---

FUSED BY DEFIANCE
Fused By Defiance, also known as FxD, is a five-piece band from Los Angeles, CA, formed in 2012. They incorporate sounds of rock, metal, hip hop, and funk, coupled with socially conscious lyrics, to create songs that will move both your body and your mind. Add in their naturally energetic performance and the live show becomes an event to remember, or as one fan put it, "Poetry in motion." The band has opened for the following international acts: The Offspring, SUM 41, Rival Sons, LIT, Unwritten Law, Puddle of Mudd, Crazytown, Fear Factory, Metalachi, the Westfield Massacre, Everclear and Eyes Set To Kill. FxD has participated in the Vans Warped Tour Battle of the Bands, and won twice (in 2013 and 2015, respectively). They also made it through KLOS's Heidi and Franks "Stay or Go"; and, consequently, won a spot into SOG Fest 2015.  And, won a battle-of-the-bands to play on 4/8/17 at 95.5 KLOS's SABROSO Music Festival. Currently, Fused By Defiance is sponsored by EMG Pickups, Red Six Drum Gear and Coldcock Whiskey.The FxD team is excited for the road ahead.  And, more than anything, is dedicated to putting in the necessary work into sharing their music with the world.
Members - Ryan Cheek (Cheeks) - Vocalist/Kevin (Kevo) Cordero- Lead Guitar/Alvaro (Al) Padilla- Rhythm Guitar/Jonathan (Jon) Sigala- Bass/Edwin (Ed) Daboub- Drummer
Website  Facebook  Twitter  Instagram  SoundCloud  Spotify  YouTube
---

THE GLORIOUS
Late evening on December 25th, 2008 at footballer and now movie star, Vinnie Jones' annual Christmas Party, the Glorious Two; Christopher Wicks and Mick Rossi would meet.
Christopher Wicks, the lyricist, designer and creator of all things English Laundry®, was born a child of the Sixties in Manchester, England–the Centre of the Universe.
In his very early years, he found solace by sketching what he remembers mainly to be shirts, shoes & guitars , listening to music and going to see shows at the many legendary Manchester music venues. His coalminer father often remarked to his Mum, "there's something wrong with that kid, he should be outside kicking a ball."
What began as a pre-teen pasttime, however, became a life-long career designing men's & women's apparel. Since leaving his home land in 1989, Christopher currently lives in Los Angeles where he pursues his passion for rock 'n' roll, open-top cars, motorcycles and, of course, fashion.
A day without music is a day without inspiration. The soundtrack playing in the backdrop of all his endeavors, includes music from The Small Faces, The Who, The Stones and, most important, the clean-cut elegance of early Beatles.
Mick Rossi, actor, writer, musician & producer, began his career in Manchester, England. As a teenager, he formed the cult British punk rock band, Slaughter and the Dogs. Mick has written & produced several albums with Slaughter and the Dogs to date. They have played with The Sex Pistols, The Clash, The Talking Heads and many more. A guitar hero to many, Mick Rossi and his band Slaughter and The Dogs are considered to be one of the founders of the punk rock movement in Britain today. Since moving to L.A., Mick continues to work as an award winning actor in independent film. As a writer he has penned scripts with Gabriel Byrne, Joanne Whalley & Patrick Bergin. Some of his more recent projects are: "Played", "2:22" and his latest project is the dark psychological thriller "A Kiss and a Promise" which he also wrote with Phillip Guzman. Mick plays the leading role of "David Beck" a sociopath opposite actress Natasha Gregson Wagner. "A Kiss and a Promise" was directed by Phillip Guzman and produced by Lenny Bitondo. A Kiss and a Promise opened theatrically on September 9, 2011.
Mick revisited his musical roots when he teamed up with fellow Mancunian singer/lyricist Christopher Wicks and together they penned the album "Stories From A Fractured Youth". Wicks' lyrics proved to be the perfect companion to Rossi's melodies & riffs. Every lyric on the album telling a story, every riff on the guitar, an infectious melody and with a little help from their friends who lent their musical talents to the album. These include Steve Jones of the Sex Pistols, Billy Duffy of the Cult and a duet with Scott Weiland of Stone Temple Pilot's.
Their debut album: "Stories from a Fractured Youth, consists of 13 powerful songs that will stand the test of time.