Apologizes to all, the audio recording for the Marcy Bulkeley's introduction and beginning interview was clipped and is missing. That said it was an epic night worthy a listen.  -John Anderson
This weeks Hunnypot Live "radio" show was a complete blow out!
DJ Hot Tub Johnnie got it going with some ideal new tastemaker picks including…I'm From Barcelona "Just Because It's Different Doesn't Mean It's Scary", College "A Real Hero (feat. Electric Youth)", Kosha Dillz "Span – Hebrish (Ech Ani Olech)".  Hot Tub continued sharing his love for G-Eazy this time with "Endless Summer (feat. Erika Flowers)" so if you don't know G-Eazy yet - you best know, by now!
Hunnypot favs The Dollyrots were the first guests to step into the hot tub. They came through and spoke about their forthcoming album GO! and also played a few tracks including a brand new cut "Hyperactive" which will be released on their new album GO!
Next on the ones & two's was none other than music supervisor Marcy Bulkeley (Herzog & Co.). This time Marcy came through with the stars of the night Macklemore & Ryan Lewis, but first some key cuts that we heard during her set - "Limbo" by Kimbra, "The World Is Yours" by I Heart Sharks and the killer ATOC vs Superbud remix of "Filthy Georgeous" by Scissors Sisters.  For more on Marcy's hot musical picks go to her blog 365 Days Of Music!
Our headlining guests of the night were rising alternative hip hop stars, Macklemore & Ryan Lewis. Coming by way of Seattle in the midst of one of their biggest tours, they performed one of the most memorable Hunnypot Radio performances ever at the Libertine!  The highlight of the night was "And We Danced" in which Macklemore came out in full robe and wig and had the crowd going crazy!  If you haven't experienced Macklemore live then be sure to check them out Nov. 23rd at the Troubadour! Also check out their scortchin' single "Can't Hold Us (feat. Ray Dalton)".
The 222nd Hunnypot Radio Sing-A-Long was "Brick House" by The Commodores.  10/03/2011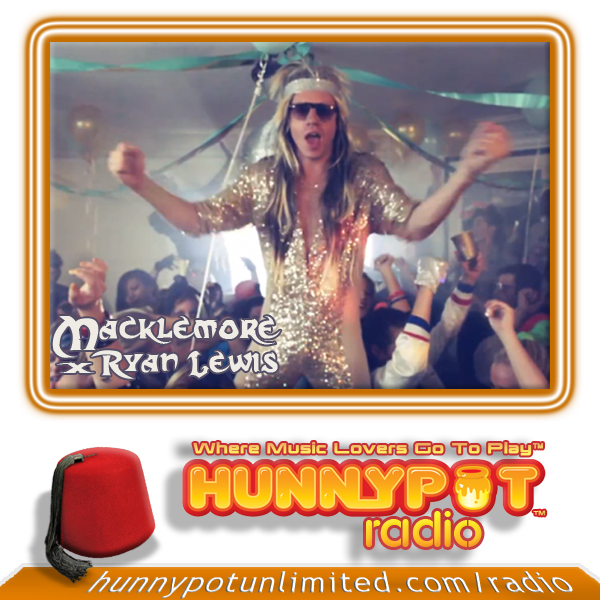 MACKLEMORE & RYAN LEWIS
We welcome Seattle hip hop emcee Macklemore, who is currently storming up online music charts with his singles "Make That Money", "Otherside" and "Wings" which he has collaborated on with Ryan Lewis. Macklemore's music is inspirational, filled with social and racial consciousness, as well as a constructive political vision. Don't miss this opportunity to catch Macklemore perform select tracks, before gearing up for a huge Fall tour with Ryan Lewis running through December! Watch the music video for the killer single "Can't Hold Us" which is our Video Pick of the Week!
---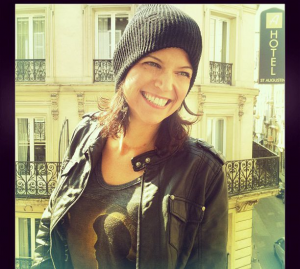 MARCY BULKELEY
Our next guest will be an encore DJ set by well respected music supervisor Marcy Bulkeley (Herzog & Company). Be ready for an ear-full of goodness, as we can expect a killer set of the latest hotness hitting the music scene. Be sure to follow Marcy at her music blog 365 Days Of Music and on HypeMachine!
---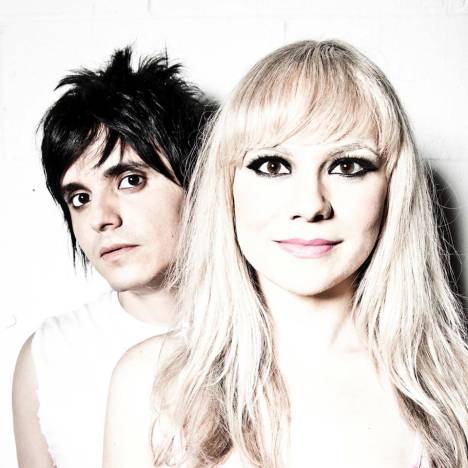 THE DOLLYROTS
We will also be joined by LA pop punk trio The Dollyrots, who will be stopping by to play a few tracks from their latest EP Arrested Youth and discuss their forthcoming full length album GO! and maybe preview new tracks - but you'll have to come to the show to find out! Check out their Kickstarter page, and be part of their new album!