For our 259th Hunnypot Radio show, we packed the house as usual with an awesome line-up of guest DJs and musicians alike. Hot Tub Johnnie got us movin' and groovin' with his set featuring new favorites from MMOTHS (ft. Holly Miranda), Rockie Fresh, Kitty Pryde, Hard Ton, MKTO, E-Train and much much more.
Following Hot Tub Johnnie, we had our special guest DJ duo of Erin Dillon & Lindsay B. Davis from the music supervision and entertainment company Creative Control. These fine music tastemakers glamoured us with a fantastic set of their favorite cuts including but not limited to - Quasimoto, Trentmøller, Rich Aucoin, Mother Mother, Hands, Abbe May and much more. Big thanks to both Erin & Lindsay B. for an exceptional set. To stay up-to-date w/ all the latest tunes from Erin, Lindsay B. & Creative Control.
Hunnypot's own DJ Boom Shack closed out the DJ portion of the night with a bangin' set loaded with goodies and gem's by Future Islands, DRGN KING, Purity Ring (covering Soulja Boy), a slammin' trap selection by Krylon and new cuts by Waka Flocka Flame, Painted Palms and more.
After the smoke show created by Erin Dillon, Lindsay B. and Boom Shack cleared we were treated to a special live performance from LA based dance rock group Mind the Gap. This up and comming electro infused rock quartet performed a killer energetic set filled with sexy hooks and explosive harmonies that had the Central crowd in a frenzy! The group is currently gearing up to release their forthcoming EP YOUTH, due out later this year.
Officially closing out the night was Hunnypot's own Larken Phillips (aka L.Boogie) who performed a raw high energy hip hop set that completely blew the roof off the Central. L. Boogie displayed his raw talent to the max and was definitely a sight to see. Don't miss L. Boogie on the Hunnypot Radio Show every other Monday at The Central: SAPC.
All in all, it was another amazing show put together by the incredible Hunnypot Unlimited team. Huge thanks to everyone that came out to support, everyone that performed, and both The Central SAPC and Hunnypot crews. We couldn't make it all happen without each and every one of you!  02/25/2013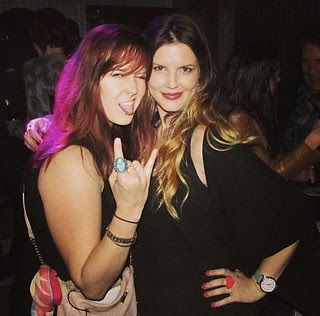 ERIN DILLON + LINDSAY-BEA DAVIS
Creative Control is a multi-faceted music supervision, consultation, live event, and production company based in LA and New Orleans. Collectively run by industry tastemaker, Joel C. High, they have music supervised or spearheaded the music efforts for the Academy Award®-winning films Crash and Monster's Ball, as well as projects as varied as HBO's Little Britain USA, Strangers with Candy, Saw, Wonderland, Tyler Perry's Diary of a Mad Black Woman, Madea's Family Reunion, Daddy's Little Girls, Why Did I Get Married?, Meet the Browns, The Family That Preys, Madea Goes to Jail and I Can Do Bad All by Myself, Akeelah & the Bee, The Devil's Rejects, Rules of Attraction, Peaceful Warrior and the Leonard Cohen concert film and documentary I'm Your Man. Creative Control is the go-to music supervision and consultation team for several of the top independent film companies including Tyler Perry Studios, The Weinstein Company, Lionsgate, Roberts-David Films and Sobini Films.
Twitter: Creative Control  Twitter: Erin  Twitter: Lindsay  Website
---

MIND THE GAP
Dance Rock group based in Los Angeles, California. MTG is a Sri Lankan, a Mexican, a Korean, and a guy from Cleveland. These 4 dirty doggies stir up sexy hooks, crushing harmonies, and fancy beats a la Maroon 5 that will pound your heart and shake your rump. They were commissioned to write theme songs for TV shows on Discovery, A&E, History, VH1, and Playboy TV. Mind the Gap self-released their debut album, 'The Good Fight' in 2011. Their forthcoming EP entitled "YOUTH" is set to release in 2013.